---
"Here Is Not Like There"
---
 
Nov. 9, 2019
1 John 5:11-13 - And this is the testimony, that God gave us eternal life, and this life is in His Son. Whoever has the Son has life; whoever does not have the Son of God does not have life. I write these things to you who believe in the Name of the Son of God, that you may know that you have eternal life.
Here the apostle John emphasizes that not only is there life beyond the grave, but that by divine mercy, we can be sure it will be ours. Death does not end all; the decay of the body is not the frightful finale of our existence; there is a glorious life beyond our deaths.

On earth our days are burdened by pain. For those saved by faith, they will have no physical suffering in the hereafter. For the redeemed of Christ have a faultless resurrection body, and in our Father's house sickness and accident are unknown.

In this world, men live their short span, and if spared to reach the threescore (60 years), or the higher milestones of age, they grow old, feeble, helpless. Hereafter, in the place Jesus prepared for us, there will be no weakness of old age, no bent frame, no dimmed eyesight, no failing senses, nothing but God-given perfection.

On this side of the grave, there is sorrow of mind, sorrow of heart, sorrow of soul; but on the other side, with the Savior, no grief or regret; instead, the complete piece of paradise! That's where there will be the radiant meeting with those who love the Lord, the joy-filled company of the apostles and prophets, saints and martyrs, the mighty men of God from all generations!

Now, our days are marked by woe, race against race, color against color, class against class, creed against creed. But there, in God's presence, there are no more master races or slave races, no more "haves" or "have-nots," no more Protestants or Catholics, Lutherans or Reformed, low-church or high-church, but rather, as the author of Revelation writes, "Behold, a great multitude that no one could number, from every nation, from all tribes and peoples and languages, standing before the throne and before the Lamb, clothed in white robes, with palm branches in their hands" (Revelation 7:9).

And do you know, this victory can be yours, too? It was for you Jesus was born a Babe in Bethlehem. It was for you He ministered to many, making disciples who would devote their lives to sharing His message. It was for you He went to the cross and bore the agonizing weight of your sin. And it was for you He rose from the grave to grant you the absolute guarantee of His power over death.

You have not earned His mercy; neither you nor anyone else can purchase it. Yet here is the marvelous assurance of our text: "that God gave us eternal life." Since the Lord gave it, take it in faith! Believe His promise. Trust Him, and you will live forever.

THE PRAYER: Heavenly Father, keep our hearts trusting in Jesus, as we look to the day when we enter Your eternal home. In Jesus' Name. Amen.

From "The Sure Guide to Glory," a sermon excerpt from Rev. Dr. Walter A. Maier, the first Speaker of The Lutheran Hour

Reflection Questions:

1. How has your perspective changed regarding the afterlife as you have grown older?

2. As a believer in Jesus as Lord and Savior, we are to know we have eternal life. Do you feel like you know you have eternal life?

3. How do you think being in heaven might surprise us?
---
LHM DAILY DEVOTIONS MOBILE APP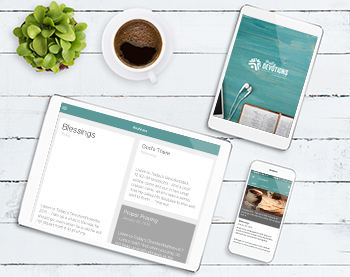 You can now access Lutheran Hour Ministries' Daily Devotions on your mobile device by using the new Daily Devotions app!
Inspirational Scripture-based messages at your fingertips every day

Season-themed devotions during Advent and Lent

Read the devotion text or listen to the audio version

Share the devotion with a friend using Twitter, Facebook or e-mail

---
'THE LUTHERAN HOUR' MOBILE APP
You can take The Lutheran Hour® program with you anywhere you go! An updated mobile app is now available for the world's longest-running Christian outreach radio program!
Play or download the audio or read the text of the program's current sermon

Search and play a sermon from The Lutheran Hour archive

Save your favorite sermons for easy access

Share sermons with your friends and family directly from the app!
---
Lutheran Hour Radio
You can also listen to the Lutheran Hour on multiple platforms.
Or click here to find a local radio station near you to listen to the Lutheran Hour Radio.
---
Portal of Prayers App
Audio
Listen to recordings of each day's Bible readings, devotion, and prayer.
Devotions + Prayers
Applicable, easy-to-read meditations and prayers.
Over 2500 Devotions
Read seven years of Portals of Prayer devotions.
Search, Save, and Share
Search past devotions by keyword, save your favorites, and share prayers.